Quality management in consortium KZU HOLDING GROUP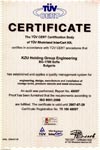 Consortium KZU Holding Group had created, supported by documents and introduces into action the Quality Management System (QMS) according to ISO 9001: 2000, which has been documented with a certificate No. 75.100.40097, issued by TUV Rheinland Group.
The specific to the consortium QMS corresponds, as per the documentation and practical implementation, to the requirements of the standard EN ISO 9001: 2001.
The available processes in the consortium are identified and determinate. Their sequence and interaction are given in the Quality manual (QM).All the sections of the standard, that have any relation to the quality system, are described in the documentation of the QMS, QM and the accompanying document in the required content./
The Quality Management System of " KZU Holding Group " encompasses all the requirements of the standard.
KZU Holding Group is certified by SLV Halle Germany as possessing the needed qualifications for production of steel structures according to DIN 18 800-7, which is documented in a certificate № SLV Hal /18800/D/002/0/04, after the last recertification valid till 2009.
The production facilities are certified in 4 methods of welding, namely - 111, 121, 135 and 141 for welding of constructional steels S 235, S 275, S 355, stainless steels and aluminum alloys.According to the QMS checks for the welders and the welding operators are being carried out in real work conditions for each new product.
The firm is certified for manufacturing of pressure vessels by TUV Rheinland for the first time according to AD-Merkblatt HP 0 (TRB 200) from 1994.The pressure vessels are subjected to control by means of acoustic emission, ultrasound, X-ray and other types of non-destructive testing methods.